"

Hey, not-so-scary basketball guy!

"
We Were Never is the twelfth episode in Season 2 of Andi Mack and the twenty-fourth episode overall. It first aired on February 16, 2018 to 1.37 million viewers.[1]
Plot
Summary
Andi is left confused when Jonah stops wearing The Bracelet and tells her he doesn't like labels. At her basketball game, Buffy finally gets what she has been hoping for.[2]
Full Plot
Cyrus is telling his friends how nervous he is about his upcoming bar mitzvah celebration. Jonah puts his hand on Cyrus' shoulders and assures Cyrus that he's there for him. That's when Andi notices that Jonah isn't wearing The Bracelet. Jonah tells Andi that the bracelet came apart and that she doesn't need to fix it. Andi takes the bracelet anyway and decides to fix it.
Andi goes to the Andi Shack and starts playing sad music while fixing the bracelet. CeCe and Ham figure out that something is wrong. They come over to help her through it. She is worried about why Jonah doesn't want her to fix the bracelet. Ham asks CeCe to help Andi using an ancient Chinese oracle, I Ching, for divination. CeCe gives Andi three coins and records as she flips them six times. She then uses the results of the coin flips to decode the Hexagram on the oracle. She gets Hexagram number 23 which means, splitting up. Andi becomes worried that it has something to do with her and Jonah's relationship but CeCe comforts her that she can interpret the results any way she wants.
After leaving CeCe's house, Andi goes to Bex's graduation. Bex had been practicing the graduation speech with Andi earlier because she is the valedictorian at her graduating class of professional makeup artists. She is proud of herself but thinks she is a disappointment to her mother, since CeCe wanted her to get a real college degree. So, she had asked Andi not to tell CeCe and Ham about the graduation. They had also agreed not to tell Bowie about it because they're still not over seeing Bowie with Miranda at the mini-golf course.
While Bex is giving the graduation speech, Andi takes pictures of her. Bex is shocked when her parents arrive. At first, she thinks Andi is the one who invited them, but CeCe mentions that they got mail from Bex's school. Bex tells Celia that she is proud of herself for finally finishing something she started. To Bex's surprise, CeCe admits that she is proud of Bex too.
Back at school, TJ tells Buffy that he is going to get tested for dyscalculia as Buffy had requested. However, he needs Buffy to do his math homework so that he can play one last game. Buffy refuses to cheat for him and calls TJ out for lacking moral code. After that, Cyrus asks Buffy if he can invite TJ to his bar mitzvah but Buffy is too upset to listen to what Cyrus is asking. Cyrus gives TJ an invitation to his bar mitzvah. They have a sweet conversation after, which leads to TJ asking Cyrus how to get Buffy to do something. Cyrus tells TJ that he should use Buffy's two favorite words, "You're right."
So, TJ uses Cyrus' advice. He looks for Buffy and tells her that she is right about everything. She is right that he's not good at math and that he needs testing and that he has no moral code. But he really wishes he could play one last game before being diagnosed and everyone finding out about his issues. Buffy loves being told that she's right. So, this gets TJ on Buffy's soft side. She agrees.
Before Buffy and TJ's game, Cyrus asks Jonah to go with him to choose suits for his bar mitzvah. Cyrus tries on different outfits in front of Jonah. Jonah wonders why Cyrus didn't invite Andi or Buffy because they would be good at it. But Cyrus tells him that he needs a man's opinion. When he finally lands on the perfect suit, Jonah tells him that he doesn't just like the suit, he likes the whole thing. After remembering Buffy's game, Cyrus and Jonah run to the school to watch Buffy play.
During the basketball game, TJ refuses to keep his promise to pass the ball to Buffy. When Buffy can't take it anymore, she asks for a timeout during which she confronts TJ for refusing to keep his promise. Buffy says that TJ only says what he needs to say to get what he wants. At that point, TJ tells Buffy "you're right," making her realize that he was only using that phrase to manipulate her to do his homework. One of TJ's teammates tells TJ to just pass the ball to Buffy. TJ agrees.
Buffy finally gets the ball. But then she shocks everyone else by dropping the ball and starting to walk away. She's walking towards her mother, Pat Driscoll. Pat is a soldier who has been deployed abroad for a long time. Buffy never gets to see her. But here she is. A surprise guest at her game. Buffy walks towards her mother and gives her a very passionate and emotional hug. The entire crowd cheers for that special military reunion moment.
After the game, Andi gives the bracelet back to Jonah but he refuses to accept it. He tells Andi that he is not a bracelet guy. He only asked Andi to make it for him because they were getting to know each other. But now wearing it makes it seem like it's a boyfriend and girlfriend thing. And he doesn't like labels. He only used to call Amber his girlfriend because Amber forced him to. Andi is shocked. She asks Jonah to confirm that they are not really boyfriend and girlfriend and Jonah confirms it. Jonah cluelessly thanks Andi for being so understanding and figuring out that they were not a couple. That's why she's the best, he says.
Andi is shocked and crushed. All this time she thought there was something between her and Jonah. There was nothing. They were never really anything. She goes back to Bex's apartment and throws the bracelet in the trash. Bex picks up the bracelet and figures out that it has something to do with why Andi is sad. Andi vents to her about how she thought she and Jonah were actually a couple. But all Jonah wanted was to spend time with her. Just as friends.
Bex quietly takes the bracelet and puts it in a smaller memory box next to her memory box. The smaller memory box is dedicated to Andi. The bracelet becomes the first item in Andi's memory box.
Cast
Main Cast
Recurring Cast
Guest Cast
Tim Shoemaker as Dad #1
Clinton Brandt as Jefferson Player
Gallery
| | |
| --- | --- |
| | To view the We Were Never gallery, click here. |
Trivia
This episode premiered 30 minutes earlier to accommodate the premiere of the Disney Channel Original Movie, Zombies.
TJ's surname of Kippen was confirmed by a team mate.
This title might be a play on from the episode, Were We Ever?.
Buffy was reading the same fictional book, Girls Who Eat Candy, that Andi was reading during Friends Like These.
Buffy's mother, Pat Driscoll, was seen for the first time in this episode. She has been deployed overseas for a long time.
Bex now has a smaller memory box for Andi's memories.
Quotes
"

Jonah never got me anything. Jonah never even sent me a text that wasn't mostly emojis. Jonah never even asked me out on a real date. All he did was say that he wanted to spend more time with me. And he... held my hand a couple times. And somehow I convinced myself that we were something. But we were never really anything.

"
​Videos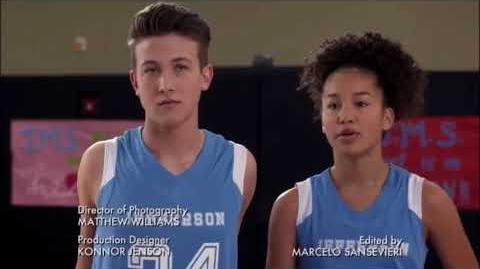 References