"

Uh... this team... Well I'm trying to find the right words to prepare you and all I'm coming up with is "hot mess".

"
Jefferson Middle School Girls Basketball Team (also known as the "Spikes") is the first girls' basketball team at Jefferson Middle School. It was founded by Buffy Driscoll after she had to play in the boys' team since there was no girls team. Despite Buffy's skills, she has struggled to get good skilled players for the team.
History
At the end of her suspension from the boys' basketball team, Buffy refuses to rejoin the team. Instead, she reveals to TJ and Cyrus that she has convinced the school to let her start her own girls' basketball team at Jefferson.
Buffy holds tryouts for girls who want to join the team. Cyrus and TJ stand by her side to help her make the school history. However, she becomes nervous and panics after realizing that none of the girls can play. She becomes furious with them. As a result, word gets out and no one else tries out for the team. So, she is left with no choice but to go with the unqualified players from round 1 of tryouts.
TJ encourages her not to give up. He tells her to embrace the team and become a better captain than he was. To help boost their spirit and make them feel like a team, Buffy convinces TJ to help her get team jerseys. The girls love their team uniform so much that they keep walking together in groups.
Buffy is training the team but they're so horrible that she keeps having breakdowns. She needs them to be good so that she can convince a good coach to coach them. They keep failing miserably. She says she would be fine if she could just get one good player. Her wish comes true when she notices a new student Kira who just recently transferred to Jefferson. Kira was the shooting guard at her former school, Monroe. She is perfect and just what Buffy needs.
Buffy introduces herself to Kira and convinces her to play for the team. When Kira asks to meet the rest of the team, Buffy tries to prepare her for the horrible team by saying they're a "hot mess." During the next practice, Buffy is impressed by Kira's skills. Unfortunately, Kira turns out to be too arrogant as she keeps bragging about her skills and pointing out how terrible her teammates are. Buffy can't take it anymore. She calls Kira aside and asks her to adjust her attitude and treat her teammates with respect. Kira refuses to budge and reminds Buffy that she called her own team a "hot mess." Buffy admits that was a mistake. On realizing that Kira won't change her attitude, Buffy has no choice but to kick Kira - her best player - out of the team.
The team is preparing for their first game. Buffy has been unable to find any qualified person willing to coach them. So, she's settled for the Guidance Counselor, Mrs. Mendenhall who knows nothing about sports. Buffy is worried that they're going to lose really bad. Kaitlin - one of the girls in the team - asks Buffy to give them a positive speech to encourage them before the game like other captains do. But Buffy is too pessimistic to even try.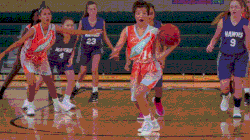 Just in time for the game, Buffy notices that there are only four players. Kaitlin says that the other players were scared away because Buffy put a lot of pressure on them and keeps saying they're going to lose. The team needs at least one more player in order to be allowed to play. Buffy freaks out and starts looking around for any other girl who would be willing to play for them. She notices Andi and begs her to play for them. Andi doesn't know how to play at all but agrees to help her friend.
During the game, Andi and the team keep messing up while the other team is beating them senselessly. As it gets more embarrassing, Buffy asks for a time out. She tells the team that she used to be worried about losing; but the scare of her not being able to play at all is worse. So, she tells them to go out there and have fun; it doesn't matter if they lose. Without the pressure to win, they actually start scoring a little. Andi hilariously scores for the other team but they all cheer for her. In the end, the team loses by a large margin but Buffy doesn't mind.
Trivia
Team members (uncredited)

Emma Aiono
Charlee Barker
Sadie Gray (Maria)
Eliana Groves
Clara.Hansen
Brooklyn Tyler Proffit
Mia.Roberts
Lorin  Robison
Jadacee Vick
Gallery
References
Community content is available under
CC-BY-SA
unless otherwise noted.