"

Vampires aren't the only thing this Buffy is slaying.

"
It's Not About You is the fifth episode in Season 1 of Andi Mack. It first aired on April 28, 2017 to 1.40 million viewers.
Plot
Summary
Ham works to convince Bex to contact Bowie and tell him the truth; Andi's frustration boils over when she discovers that Buffy has secretly been confiding in Bex instead of her. Meanwhile, Cyrus double-dates with Jonah Beck, Amber and her friend Iris. 
Full Plot
Bex is curious to find out Andi's dad's reaction when Ham told him about Andi but it turns out he didn't actually tell him Andi was his daughter. He just posted pictures of Andi on Facepage where Andi's dad would see her without knowing that Andi is his daughter. Ham then tells Bex that Bowie Quinn deserves to know the truth about his daughter. He gives Bex an email address to write to Bowie. Bex starts writing the email but can't figure out where to begin. So she just emails him, "Hey." Ham tries to help too but can't come up with anything better either.
At school, Andi tells Buffy and Cyrus that Celia is still upset about the party in Dancing in the Dark and hasn't talked to her since then. Andi says she needs a mother but Bex isn't acting like a mother and got her in trouble for throwing the party. Andi admits that she realized she needs boundaries and so she tries to avoid Bex. When at home, she even tries to avoid Bex by hiding in the bath tub.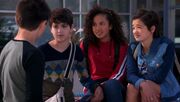 Cyrus is excited to show off to Buffy and Andi that he can actually talk to Jonah Beck and get a response from him. Jonah reminds Cyrus of Iris - Amber's friend from the party - and tells him that Iris and Amber would like to go on a double date with Jonah and Cyrus. Jonah tells Andi that her party was cool but Buffy confronts Jonah about his girlfriend, Amber. Jonah apologizes to Andi for how Amber ruined the party and says that Amber is very sorry. While Jonah is looking into Cyrus' eyes while asking him about the double-date, Andi looks at Jonah the same way and says it's sad to love someone so much while knowing that they would never love you back.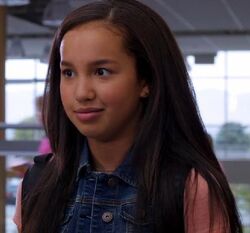 Gus tells Buffy that she was called to the Vice Principal's office. The vice principal, Ms. Dullridge forces Buffy to change her hair to straight instead of curly because apparently some kid complained that they failed their test because Buffy's big curly hair was blocking them from seeing the board. Andi and Cyrus are furious about such a stupid decision while Buffy is worried because she has no one to talk to. She tells them that her mom is still serving overseas and won't be home for at least six more months. The following day, Buffy comes to school with straight hair. She says that she loves the straight hair but wishes that she could have a choice to decide whether to go straight or curly.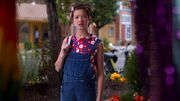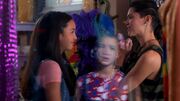 When the trio plan to meet at The Spoon Diner to help Cyrus with his date, Buffy refuses to show up. Cyrus seeks Andi's advice about his double date with Jonah but Andi is just as clueless about dating as he is. He tries to get some wardrobe ideas from Andi but Andi is more concerned about Buffy. She leaves Cyrus and goes to The Fringe only to find Buffy talking with Bex. She watches them from a distance and runs away, disappointed. The next day she asks Buffy to help with shopping for supplies for Andi Shack but Buffy declines, claiming that she has some homework to do.
After buying the supplies, Andi finds Buffy at their house, talking with Bex. She gets mad that Buffy wants to spend more time with Bex than her. Buffy confronts Andi and tells her not everything is about her. She explains that she just needed someone to talk to about the hair situation. She reveals to Andi that she accidentally burned her hair and gave herself a bald spot while trying to straighten it. Andi sympathizes with Buffy and apologizes for not being available. Buffy decides that she will go back to her usual curly hair no matter what the vice principal wants.
Meanwhile, Cyrus meets up with Iris, Amber, and Jonah for the double date. Both Cyrus and Iris are excited to see each other and Cyrus says he's already come up with their ship name, "Cyris." Amber makes fun of Cyrus' shoes before the gang moves in for some games. Cyrus wants to win stuffed animals for Iris but tries several times without success. Iris plays once and wins one for both of them. After that, the group heads to the merry-go-round rides but Cyrus gets scared of the rides. He freaks out and starts screaming, asking for them to stop the rides - even after they stop. Jonah and Iris stand by his side while Amber is trying to ride. He gets nauseous and pukes in his shoe. Embarrassed, he walks behind the rest of the group with just one shoe.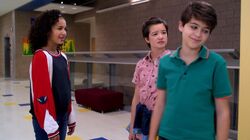 The following day at school, Cyrus tells Buffy and Andi that the worst part about the date is that Jonah will probably never talk to him again. Luckily, Jonah says hi to Cyrus, making him cheerful again. Buffy confronts the Vice Principal about the hair and finds out that the kid who complained about Buffy's hair doesn't even sit behind her. He just created an excuse for failing a test. So, Buffy continues rocking her amazing curly hair. Cyrus calls the trio, The Good Hair Crew.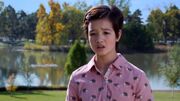 After school, Andi tries to fix things with Bex by hanging out with her. She even takes Bex to the frisbee field to teach her how to play. When Bex fails to wait for instructions and throws the frisbee far away, Andi walks over to pick it up... and Amber Alert! She finds Amber with another boy, drawing a heart on his palm and probably cheating on Jonah Beck.
Cast
Main Cast
Recurring Cast
Trivia
Buffy is called to the vice principal's office regarding complaints about her hair from other students. 
This episode is talking about the ridiculousness of how many schools force people to change their native hair for some reason and how African Americans should be allowed to wear their hair as they wish. 
Ms. Dullridge, the vice principal is mentioned, but does not appear until Dad Influence. 
Iris, mentioned in the previous episode is seen for the first time.
We learn the name of Andi's dad in this episode which is Bowie Quinn.
Quotes
Cyrus
 :
(to Buffy & Andi) Guys, guys, guys! Wanna see something amazing?
(to Jonah) Hey, Jonah!
Jonah
 :
Hey, Cyrus!
Cyrus
 :
(to Andi & Buffy) Did you see that? Jonah Beck sayin' hi to me? Like, wha-evah, no BD, we're friends.
Jonah
 :
Dude, I need to talk to you.
Cyrus
 :
(nervous) Why? What'd I do? I'm sorry.
"

His mom is the something-something of the school district, and she made a stink. But now Jacob the Liar's suspended, and I got a personal apology from the principal.

"

— Buffy
| | | |
| --- | --- | --- |
| Cyrus |  : | And so ends another adventure of the Good Hair Crew. |
| Andi |  : | We're not the Good Hair Crew. |
| Cyrus |  : | Yes, we are. The T-shirts have been ordered. |
| Andi & Buffy |  : | (laughing) Oh my gosh. |
| | | |
| --- | --- | --- |
| Buffy |  : | Vampires aren't the only thing this Buffy's slaying. |
| Andi |  : | So, is this gonna be your hair from now on? |
| Buffy |  : | Well, maybe. Don't you like it? |
| Andi |  : | I do! I do. I just like your curly hair better. |
| Buffy |  : | Well, I'm trying this. And I think I look great. So get on board. |
| Cyrus |  : | Andi, don't you know anything about women? You can never tell one you don't like their hair. |
Gallery
| | |
| --- | --- |
| | To view the It's Not About You gallery, click here. |
References