Episode Recap: Hey, Who Wants Pizza?
Play Sound
"

Cyrus... you've always been weird. But you're no different.

"
Hey, Who Wants Pizza? is the first episode in Season 2 of Andi Mack and the thirteenth episode overall. It first aired on October 27, 2017 to 1.62 million viewers.[1]
Plot
Summary
Andi encourages Bowie to plan a future with Bex; Cyrus introduces his girlfriend, Iris, to Andi and Buffy; and Jonah invites Andi to the Space Otters' party.[2]
Full Plot
Andi is excited as she prepares Bowie to propose to Bex. She comes up with all sorts of proposal ideas but Bowie just wants to listen to the universe to tell him what to do. She tells Cyrus and Buffy about it later at The Spoon Diner while waiting for Cyrus' girlfriend, Iris, to show up.
Cyrus nervously introduces Iris to the Good Hair Crew as "my Iris" but Iris tells him that he can say "girlfriend." When Buffy notices how shy Iris is, she tells her that they're only in seventh grade and she doesn't have to be nervous around them since Iris is in high school. She also asks how Iris and Amber can be friends because Iris is so sweet while Amber is so mean. Iris assures them that Amber is not a bad person, she's just insecure. Andi doesn't believe Amber can be insecure but Iris explains that Amber feels incomplete without a boyfriend. Iris reveals that Jonah Beck broke up with Amber last night.
Iris and Cyrus bond on their shared passion for dinosaurs as they walk out of The Spoon. During the walk, they realize how much they have in common, which ultimately leads to Iris kissing Cyrus unexpectedly. Cyrus brags about the kiss next day to Andi, Buffy, and even Jonah, but admits that he doesn't remember how it was; he's just glad he's had his first kiss.
Jonah invites the Good Hair Crew to the Space Otters Frisbee Team party. Cyrus gladly accepts the offer but Andi doesn't want to go because she's trying to stay away from Jonah. Buffy forcefully carries Cyrus away in order to leave Jonah and Andi to talk in private. Jonah asks Andi to think about it. Jonah then gives her the bracelet that she had made for him - the one he had given to Amber. He says he doesn't deserve it.
Back home, Andi shows Bex the bracelet and tells her about it. Bex realizes that Jonah likes Andi and he would tell her that given the right place and time. Andi then tells Bex about the Space Otters party and that she doesn't want to go so that she doesn't have to think about Jonah. Bex tricks Andi by asking her to use a coin flip to help her decide. Heads is yes; tails is no. After getting tails, Andi is disappointed. Bex tells her since she's disappointed by the coin flip outcome, it means she has to go. That's how it works. So, Andi goes to the party.
At the Space Otters party, Jonah Beck announces the team MVP award, and to everyone's surprise, he awards it to Cyrus Goodman. He gives Cyrus an official Space Otters team jersey. When Jonah comes over after the party, Cyrus thanks him and tries to spend more time with him. But to his disappointment, Jonah wants to have a private moment with Andi. Buffy pulls Cyrus away to give Andi and Jonah some space.
Jonah tells Andi about his breakup with Amber. He tells Andi that Amber thinks he broke up with her because of Andi. Andi thinks she couldn't possibly make Amber jealous but Jonah tells her it's not crazy and asks if she could think about being around him. Andi smiles and gives the bracelet back to Jonah. Meanwhile, Buffy and Cyrus are watching Andi and Jonah from a distance. Buffy is excited for Andi but Cyrus isn't.
The next day, Buffy meets up with Cyrus at The Spoon and notices that Cyrus is still not happy. She becomes worried and asks Cyrus what's going on. Cyrus tells her that the other day, he wasn't really happy for Andi and Jonah getting together. He admits that he's jealous. Buffy asks him if he likes Andi but Cyrus denies it. He looks Buffy in the eyes, full of emotions in a way that makes Buffy realize that Cyrus likes Jonah.
And at that moment, Cyrus comes out to Buffy about his crush on Jonah.
He tells Buffy that he feels weird and differently. Buffy holds his hands and assures him that he's no different. Without even saying it, Buffy offers all the support Cyrus needs. Both Cyrus and Buffy are glad that he came out to her. Cyrus is still worried about how he will tell everyone else but Buffy assures him that it will be okay. Cyrus jokes about how bad the timing is since he just got a girlfriend.
Meanwhile, Andi meets up with Bowie who tells her the good news of getting a job in town. Andi pushes him again about asking Bex to marry him. When Bowie tries to listen to the universe again, Andi tricks him with a coin flip, the same way Bex had done to her earlier.
In Bex's apartment, Bex is in the middle of asking Andi about the party last night, when someone knocks on the door announcing pizza delivery. It's Bowie. Bex figures out that Andi and Bowie had planned it. Bowie opens the pizza box and gets down on his knees. Andi is very excited about the proposal. He asks Bex to marry him. Bex is shocked and speechless for a minute. Instead of saying yes, she just says "Um."
Um? What does that mean? Is it a yes? Is it a no? Buffy and Cyrus ask as Andi tells them what happened the next day at The Spoon. Jonah Beck joins them and has a cute moment with Andi, making both Buffy and Cyrus uncomfortable. So, Buffy pulls Cyrus away to leave them alone.
On their way out, Buffy mocks Andi and Jonah but Cyrus says it was adorable and she doesn't have to pretend to hate the couple just because of him. Cyrus worries about how he will tell Andi that they both have a crush on the same guy. He is also not ready to tell his shrink stepmother but Buffy once again tells him that it will be okay. Cyrus asks Buffy to be patient with him until he's ready to tell others.
At The Spoon Diner, Andi is telling Buffy how nervous she is around Jonah Beck, when Amber walks in. Amber passes by them without even looking at them. Buffy tells Andi that she's won in the war for Jonah with Amber. Jonah arrives and Andi gets so nervous once again, and replies with "dimples" when Jonah asks what's going on. Cyrus and Iris join them and they both act all cute together, making Buffy uncomfortable because she knows Cyrus is faking it.
Iris is about to tell them that Amber now works at The Spoon Diner when Amber walks right up to them and announces that she's their waitress. They are all shocked that Amber is their waitress. As Cyrus and Iris brag about how cute they are, Andi and Buffy get up to go to "the bathroom." Andi rants to Buffy about how uncomfortable she is with Amber now working at The Spoon. She also vents about her nervousness around Jonah but Buffy suggests that she is not ready for that kind of relationship and perhaps she and Jonah should just be friends. Andi doesn't like the suggestion.
Outside The Spoon Diner, Amber opens up to Jonah about her financial situation and why she's working at The Spoon. She tells him that her dad lost his job and had been keeping it a secret for months. They just found out but now money is tight, so she has to work. Jonah promises to be there for Amber during this tough time. Jonah hugs Amber and promises to keep it a secret. Amber thanks Jonah for listening.
Watching Amber and Jonah makes Andi jealous. Buffy confronts Jonah about it and asks him not to mess with her friends. Jonah gets scared and leaves. Andi meets up with Jonah later and promises not to ask about his conversation with Amber. They walk along talking about how Andi always says embarrassing stuff around Jonah.
At The Fringe, Bex finds her boss Brittany freaking out about how she needs makeup for a black-and-white ball. Brittany is so impressed by Bex's makeup that she asks Bex to consider doing it for a living. But Bex already does that for a living, there at The Fringe. Brittany makes fun of The Fringe saying that people only come there to buy fart machines and socks that smell like bacon. Bex continues to admire her makeover as Bex receives another pizza package from Bowie. There's a note asking Bex to please say yes. Brittany sees the note and Bex reminds her who Bowie is. Brittany asks if they're back together and when Bex says "Um," Brittany figures out that they are not. She tells Bex to keep it that way because high school boyfriends don't keep well. Brittany makes fun of Bex's age and leaves.
The conversation with Brittany helps Bex make up her mind about Bowie's proposal. She tells Andi that she is not going to marry Bowie. Andi is disappointed.
Cast
Main Cast
Recurring Cast
Gallery
| | |
| --- | --- |
| | To view the Hey, Who Wants Pizza? gallery, click here. |
Trivia
This was a 1-hour special that combined the original Season 1 finale (113) and the first episode produced for Season 2 (201).
This is the season premiere of the second season of Andi Mack.
The only released clip of this show, during Season 1, consisted of Buffy asking Cyrus if he has a crush on Andi.
This the only season premiere where Iris appears in.
The original ending scene for 113 was cut, and was as follows: On a snowy next day at school, Andi approaches Cyrus and Buffy in the cafeteria, and tells them she has news. Cyrus and Buffy state that they have news as well, but lets Andi go first. The scene ends just as Andi is about to tell them Bex's answer to Bowie's proposal. It is clearly implied that at that point, Cyrus was ready to tell Andi about his feelings for Jonah.

Director Gordin released the original version of 113 online.
Disney Channel Latinoamerica airs the single version of episode 13 (also the 1 long version as a special), but it doesn't include the original ending scene, but a "Next Time" with the second part scenes.
It's unknown if a single version of episode 14 includes a "Previously".

As hinted in the previous episode, noticing Bowie's penchant for plants, leads Celia to arrange a job for him at a plant nursery, Judy's Blooms.
Anson Bagely (who plays Gus) was briefly seen in the background during the Space Otters team party, but did not have a speaking role this episode and only used as an extra.
Cyrus admitted to Buffy that he likes Jonah.
Iris and Cyrus are now a couple, but Cyrus felt weird about it since he really likes Jonah.
The title was originally called "Umm."
The title references the recurring trope of either Andi or Bex asking if anyone wants pizza when there's a major issue to be tackled, as the episode unfolds with major events taking place.
Quotes
"

They're making tea and talking plants? It's the most boring miracle I've ever seen.

"
Videos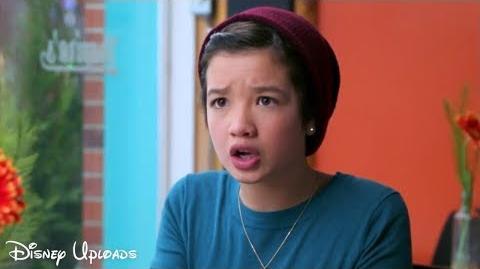 References