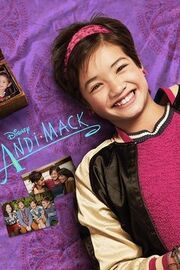 This is the list of Andi Mack episodes.
Andi Mack is a Disney Channel Original Series. The series was created by Terri Minsky, known for another Disney Channel series, Lizzie McGuire.
Series Overview
Season
Episodes
Originally aired (U.S. dates)
Season Premiere
Season Finale
1
12
April 7, 2017
June 23, 2017
2
25
October 27, 2017
August 13, 2018
3
20
October 8, 2018
July 26, 2019
Season 1 started filming in the town of Magna, Utah and other various locations throughout the Salt Lake area in September 2016 and finished in December 2016.
It premiered on April 7, 2017 on Disney Channel.
The first 2 episodes, 13 and Outside the Box, comprising the Andi Mack premiere movie, "Tomorrow Starts Today", became available on WATCH Disney Channel apps and the website on March 10, 2017.
Lauren Tom was absent in It's Not About You, Were We Ever? and Best Surprise Ever.
#
Ep.
Title
Writer(s)
Director
Prod. Code
Airdate
Viewers (millions)
1
1
"13"
Terri Minsky

Paul Hoen

101
April 7, 2017
1.24

Andi's family life is thrown for a loop when her big sister, the freewheeling Bex, returns home on the eve of her 13th birthday. It begins with Bex arranging for Andi to train for Ultimate Frisbee with the cutest guy at school, Jonah Beck, who she learns has a high school age girlfriend, Amber.

2
2
"Outside the Box"
Terri Minsky
Paul Hoen
102
April 7, 2017
1.24

Andi grapples with telling her best friends Buffy and Cyrus some big news, but is preoccupied making Jonah Beck a bracelet, at his request. Meanwhile, Cyrus becomes the Space Otters' official Enthusiastic Supporter, helps them win their first game.

3
3
"Shhh!"

Erin Dunlap

David Warren
103
April 14, 2017
1.19

Against Celia's wishes, Bex convinces Andi to stay up late to watch a scary movie; and when Andi falls asleep in class the next day, she receives detention and then misses the Space Otters game. Meanwhile, Buffy joins the track team and is determined to win.

4
4
"Dancing in the Dark"

Phil Baker

Paul Hoen
104
April 21, 2017
1.27

Ham takes Celia on a weekend getaway, so Bex emboldens Andi to host her first-ever dance party at the house – and then Amber shows up, dampening Andi's big night.

5
5
"It's Not About You"
Rayna McClendon
Joe Menendez
105
April 28, 2017
1.40

Ham works to convince Bex to contact Bowie and tell him the truth; Andi's frustration boils over when she discovers that Buffy has secretly been confiding in Bex instead of her. Meanwhile, Cyrus double-dates with Jonah Beck, Amber and her friend Iris.

6
6
"She Said, She Said"

Suzanne Weber

Paul Hoen
106
May 5, 2017
1.41

Buffy and Cyrus convince Andi to tell Jonah the truth about Amber, but it leads to Andi feeling humiliated. Bex lets Andi stay home from school and they get an unexpected visitor.

7
7
"Dad Influence"

Elena Song

Jerry O'Connell
107
May 12, 2017
1.49

Andi gets invited to go on a fun adventure, but overprotective Celia makes her go to school; Andi's glad she did because she finds out something important about Jonah and Amber.

8
8
"Terms of Embarrassment"

Sam Wolfson

Adam Weissman
108
May 19, 2017
1.48

Andi catches someone snooping through her laptop making her yearn for some time to herself. Meanwhile, Cyrus is challenged by a text from Jonah Beck and enlists Buffy's help.

9
9
"She's Turning Into You"
Erin Dunlap
Michael Grossman
109
June 2, 2017
1.41

When Jonah asks Andi for help picking out a birthday gift for his girlfriend, Amber, Andi enlists the help of Bex.

10
10
"Home Away From Home"
Phil Baker
Eyal Gordin
110
June 9, 2017
1.29

Andi and Bex struggle to get comfortable with their new living arrangement; Cyrus thinks Iris has dumped him so he enlists Buffy to fill in as his date.

11
11
"Were We Ever?"
Sam Wolfson
Paul Hoen
111
June 16, 2017
1.38

Andi, Buffy and Cyrus start a protest against an unreasonable dress code.

12
12
"Best Surprise Ever"
Elena Song & Suzanne Weber
Vanessa Parise
112
June 23, 2017
1.94

Jonah Beck turns to Andi after Amber fails to defend him to her friends; Andi is convinced Bex and Bowie are destined to be together.
#
Ep.
Title
Writer(s)
Director
Prod. Code
Airdate
Viewers (millions)
13
1
"Hey, Who Wants Pizza?"
Terri Minsky
Eyal Gordin
113-201/2-99
October 27, 2017
1.62

After breaking up with Amber, Jonah Beck starts to realize he may have feelings for Andi. This leads Cyrus to feel uncomfortable being with Iris, which leaves Buffy suspicious. Meanwhile, Bowie tries to rekindle his relationship with Bex.

14
2
"Chinese New Year"
Elena Song
Eyal Gordin
202
November 3, 2017
1.66

Andi invites Jonah to her Chinese New Year celebration, which gets awkward when Celia's sister Aunt Mei visits. Buffy signs up for the boys' basketball tryouts.

15
3
"Friends Like These"
Phil Baker
Adam Weissman
203
November 10, 2017
1.40

Andi tries to convince her friends to find a new hangout spot to avoid Amber at The Spoon. Buffy tries out for the boys' basketball team.

16
4
"Mama"
Terri Minsky
Eyal Gordin
205
November 17, 2017
1.58[1]

Andi learns more about her past on the anniversary of the day Bex left home. Jonah attempts to teach Cyrus how to skateboard.

17
5
"The Snorpion"
Erin Dunlap
Eyal Gordin
206
November 24, 2017
1.18[2]

Andi invites Amber over for a sleepover. Buffy is frustrated when the basketball team captain TJ excludes her from gameplay.

18
6
"I Wanna Hold Your Wristband"
Sam Wolfson
Joe Menendez
207
December 1, 2017
1.45

Andi takes a stand when students are divided into two groups, and one group receives preferential treatment at her school. Andi also learns AndiShack is in jeopardy.

19
7
"Head Over Heels"
Erin Dunlap
Joe Menendez
208
January 15, 2018
1.31[3]

Andi and Jonah go on a double date with Buffy and Marty to an arcade. Meanwhile, Cyrus decides to shoot a movie with Bex's encouragement.

20
8
"There's a Mack in the Shack"
Elena Song
Paul Hoen
209
January 19, 2018
1.28[4]

When Andi and Celia spend more time together, Bex feels jealous. Buffy agrees to tutor TJ if he agrees to pass her the ball on the court.

21
9
"You're the One That I Want"
Phil Baker
Paul Hoen
210
January 26, 2018
1.28[5]

Andi questions her relationship with Jonah. After a discouraging talk with Amber, Andi enlists Buffy and Cyrus to investigate.

22
10
"A Good Hair Day"
Suzanne Weber
Paul Hoen

Adam Weissman

204
February 2, 2018
1.21[6]

Andi and Bex turn Bowie's birthday blues around when they plan a surprise party for him. Jonah joins Andi, Cyrus and Buffy on their annual trip to the Renaissance Faire.

23
11
"Miniature Gulf"
Suzanne Weber
Paul Hoen
211
February 9, 2018
1.14[7]

Andi and Bex discover that Bowie may be seeing someone and Andi asks to meet her. Cyrus is tapped to make a video for the school, but realizes he may be better behind the camera.

24
12
"We Were Never"
Sam Wolfson
Michelle Manning
212
February 16, 2018
1.37[8]

Andi is left confused when Jonah stops wearing the bracelet and tells her he doesn't like labels. At her basketball game, Buffy finally gets what she has been hoping for.

25
13
"Cyrus' Bash-Mitzvah!"
Terri Minsky
Paul Hoen
213-214
February 23, 2018
1.39[9]

After much preparation and planning, Cyrus' Bar Mitzvah festivities commence. Andi and her friends and family all join him in the celebration, which is full of landmark events for more than just Cyrus.

26
14
"Better to Have Wuvved and Wost"
Jason Dorris
Kenny Ortega
215
June 4, 2018
1.14[10]

Jonah tries to express his feelings for Andi through gifts, which proves not to be his forte. Buffy reveals she has to move and Andi devises a plan for her to stay.

27
15
"Perfect Day 2.0"
Erin Dunlap
Paul Hoen
216
June 11, 2018
0.95[11]

Andi, Buffy and Cyrus try to make the most of their time together by attempting to recreate their "perfect day." Bowie teaches Jonah how to play the guitar.

28
16
"Truth or Truth"
Suzanne Weber
Joe Menendez
217
June 18, 2018
0.98[12]

When the power goes out in Shadyside, a day of fun and games shed light on unexpected revelations.

29
17
"A Walker to Remember"
Elena Song
Joe Menedez
218
June 25, 2018
0.92[13]

Andi and Walker realize how much they have in common when they spend the day together. Buffy steps up to lead the team in T.J.'s place when he is sidelined.

30
18
"Crime Scene: AndiShack!"
Phil Baker
Charles Minsky
219
July 2, 2018
1.14[14]

A special craft project goes missing when Andi agrees to let Miranda's daughter spend the day at AndiShack. Jonah confides in Buffy and Cyrus.

31
19
"Andi's Choice"
Sam Wolfson
Paul Hoen
220
July 9, 2018
1.07[15]

Jonah finds a way to tell Andi how much he truly likes being around her. Meanwhile, Walker continues to make a positive impression on Andi and her friends.

32
20
"For the Last Time"
Jonathan S. Hurwitz
Michelle Manning
221
July 16, 2018
0.83[16]

Andi, Cyrus and Jonah put together a farewell gift for Buffy before her last day in Shadyside.

33
21
"Buffy in a Bottle"
Erin Dunlap
Paul Hoen
222
July 23, 2018
0.88[17]

Andi and Cyrus miss Buffy and can't reach her after her move. Andi receives a handmade gift from Walker that upsets Jonah.

34
22
"Keep a Lid on It"
Joanne Lee
Joe Menendez
223
July 30, 2018
0.70[18]

Ham reveals surprising news to Andi and Bex. Jonah tries out for a regional league Ultimate team.

35
23
"Bought, Lost or Stolen"
Phil Baker & Sam Wolfson
Paul Hoen
224
August 6, 2018
0.94[19]

Andi runs into Walker at an art fair, and he meets Jonah for the first time. Bowie's relationship with Miranda hits a snag.

36
24
"We're on Cloud Ten"
Elena Song & Suzanne Weber
David Kendall
225
August 10, 2018
1.01

Andi and Jonah go on their first date where she learns some sad news. Bex and Celia prepare for the grand opening of their business.

37
25
"The Cake That Takes the Cake"
Terri Minsky
Paul Hoen
226
August 13, 2018
1.05[20]

Andi and Bex plan a special dinner for Bowie, but unexpected company drops in to crash the party.
On February 19, 2018, Disney Channel renewed Andi Mack for a third season, which premiered on October 8, 2018.[21]
Season 3 began filming on June 5, 2018 and ended on December 21, 2018.
Episode 318 was produced, but ultimately never aired.
Lauren Tom was absent in Hole in the Wall, I Got Your Number, The Quacks, Mount Rushmore or Less, and One Girl's Trash, Arts and Inhumanities, and Something to Talk A-Boot.
This is the final season of the show.[22]
#
Ep.
Title
Writer(s)
Director
Prod. Code
Airdate
Viewers (millions)
38
1
"The Boys are Back"
Terri Minsky
Michelle Manning
301
October 8, 2018
0.90

Andi anxiously awaits Jonah's return from summer camp; Andi is surprised to learn who Buffy likes; Bex gives Celia a makeover.

39
2
"Howling at the Moon Festival"
Elena Song
Paul Hoen
302
October 15, 2018
0.67

Andi and her friends and family gather to celebrate the Harvest Moon Festival, but Jonah's mishap may spoil the evening; Celia attempts to one-up her sister, Mei, by announcing a special event; Andi and Jonah have a heart-to-heart talk about their relationship.

40
3
"It's a Dilemma"
Erin Dunlap
Paul Hoen
303
October 22, 2018
0.69

Andi's plans for a group outing with Buffy, Cyrus and Jonah are interrupted by Walker; Bowie's new guitar student proves to be a challenge; Cyrus seeks an alternative to P.E. and ends up in a dance class.

41
4
"Hole in the Wall"
Sam Wolfson
Michelle Manning
304
November 2, 2018
0.66

Andi is embarrassed when Jonah performs a song about her; Bowie decides to renovate Bex and Andi's apartment to make it big enough for their whole family to live in; Buffy conducts her first girls' basketball team tryouts.

42
5
"That Syncing Feeling"
Suzanne Weber
Paul Hoen
305
November 9, 2018
0.84[23]

Feeling left out by her friends, Andi spends time with Amber. Andi and Celia pick out Bex's wedding cake. Bowie helps a guitar student break some bad news.

43
6
"Cookie Monster"
Phil Baker
Paul Hoen
306
November 16, 2018
0.89

Andi, Bowie, and Bex are surprised by an impromptu visit by Bowie's mother. While hanging out with T.J.'s friends, Cyrus faces a dangerous situation. Buffy and Jonah learn a secret about their school principal.

44
7
"The New Girls"
Elena Song & Suzanne Weber
Michelle Manning
307
November 30, 2018
0.83

Andi becomes friends with Jonah's new girlfriend; Buffy is excited to learn the girls' basketball team has a talented player; Cyrus tries to keep avoiding TJ.

45
8
"I Got Your Number"
Sam Wolfson
Joe Menendez
308
January 19, 2019
0.77

Andi gets in over her head when she attends a high school party with Amber causing Bowie's plans for a romantic outing with Bex to go awry. Cyrus tries to mend a longtime rift between Jonah and T.J.

46
9
"Secret Society"
Phil Baker
Paul Hoen
309
January 25, 2019
0.79

Invitations from a secret society at school cause tension between Andi and her friends; Bex and Celia search for the perfect wedding dress.

47
10
"The Quacks"
Erin Dunlap
Aprill Winney
310
February 1, 2019
0.84

Andi lends a hand when Buffy's coaching skills are tested at the school's first girls' basketball game; Amber helps Cyrus create a dance routine; Libby is disappointed that Jonah hasn't learned sign language.

48
11
"One in a Minyan"
Jonathan Hurwitz
Michelle Manning
311
February 8, 2019
0.76

Andi, Buffy and Jonah support Cyrus as he sits Shiva for his grandmother but Bowie's homemade kugel dish is a shanda.

49
12
"The Ex Factor"
Erin Dunlap
Paul Hoen
312
February 22, 2019
0.73

Andi, Buffy and Cyrus worry about Jonah's unusual behavior; Miranda tries to cause problems for Bowie and Bex./

50
13
"Mount Rushmore or Less"
Suzanne Weber
Paul Hoen
313
March 1, 2019
0.79

Andi attempts to enlist her friends in an epic group costume; Amber continues to vie for Jonah's attention; Bex makes a confession to Andi.

51
14
"Hammer Time"
Jason Dorris
Paul Hoen
314
June 21, 2019[22]
0.62

Andi releases her frustrations about Bex and Bowie's canceled wedding; Cyrus invites Jonah to a backyard campout; Buffy competes in a marathon with Marty.

52
15
"Unloading Zone"
Phil Baker
Brent Geisler
315
June 21, 2019[22]
0.61

Andi, Buffy, Jonah, and Cyrus take a stand against a wasteful clothing company; Cyrus is disappointed by T.J.'s new friendship; Celia refuses to forgive Bex.

53
16
"One Girl's Trash"
Elena Song
Paul Hoen
316
June 28, 2019
0.60

Andi creates an art project to combat stereotypes; Bowie reveals his true feelings about the wedding; Jonah and Amber are not on the same page with their relationship.

54
17
"Arts and Inhumanities"
Sam Wolfson
Leslie Kolins Small
317
July 5, 2019
0.60

Andi learns about a life-changing opportunity; Cyrus counsels Amber about her relationship with Jonah; Buffy has an awkward meeting with Marty's ex.

55
18
"Something to Talk A-Boot"
Erin Dunlap & Elena Song
Paul Hoen
319
July 12, 2019
0.56

Andi makes a big decision about her future; T.J.'s act of kindness toward Buffy lands him in trouble; Amber asks Jonah for some space.

56
19
"A Moving Day"
Suzanne Weber & Sam Wolfson
Michelle Manning
320
July 19, 2019
0.60

Andi and her family take a road trip; while helping Jonah move, Buffy and Cyrus are surprised to learn the identity of his famous mom.

57
20
"We Were Here"
Terri Minsky
Paul Hoen
321
July 26, 2019[22]
0.65

When Celia leaves town, Andi and Bex throw another party; Buffy and Cyrus share relationship woes; Andi shares a secret.
References
General References