"

And let's not forget about Andi's new mom... And what about Andi's new dad? Is he here? We'd love to meet him too!

"
Dancing in the Dark is the fourth episode in Season 1 of Andi Mack. It first aired on April 21, 2017 to 1.27 million viewers.
Plot
Summary
Ham takes Celia on a weekend getaway, so Bex emboldens Andi to host her first-ever dance party at the house – and then Amber shows up, dampening Andi's big night.[1]
Full Plot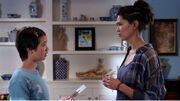 Andi asks Bex if the guy in the photo is her dad but Bex denies it and even tears up the photo. Bex tries to distract Andi by ordering pizza - as she always does when she doesn't want to answer Andi's questions. This convinces Andi that the guy in the photo is important even if it's not her dad.
The next day at school, Cyrus is explaining to Buffy how he ran into a glass wall, again. Andi joins them and notices that everyone is staring at her. Cyrus confesses that he told his mom Andi's secret and since Cyrus' mom is the biggest gossip in town, she had emailed everyone, telling them that Andi is Bex's daughter. Buffy confronts Cyrus for telling the secret and Cyrus apologizes, saying that he only wanted to help Andi so that she doesn't have to go through the trouble of telling everyone.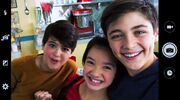 Just about then, Jonah Beck joins them. He tells Andi that he knows about the secret and he thinks it's awesome and exciting. Andi is relieved that Jonah Beck is cool with it. Jonah asks to take a selfie with Andi but Cyrus photobombs them. You're welcome!
Meanwhile, Celia is watering her lawn at home when her neighbor, Lillian, approaches and starts mocking her after finding out the secret. Celia tries to be patient with her until Lillian calls her "grandma." She gets furious and attacks Lillian by spraying water on her with the garden hose she was using.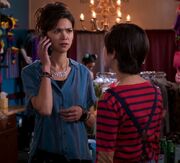 Andi goes to The Fringe to tell Bex that the secret is out and Jonah is cool about it. Bex gets concerned and tries to call her parents without success. She asks Brittany for permission to go home for an emergency. At home, Bex and Andi find Ham and Celia packing, ready to leave. Ham explains that he needs to take Celia for a getaway after her angry encounter with their neighbor.
This means Andi and Bex have the whole house to themselves and they can do whatever they want. Bex asks Andi to think of anything she wants to do but Andi can't think big enough. So, Bex gives her the idea to throw a dance party. Bex and Andi go back to The Fringe to buy costumes and decorations for the party. Brittany is surprised that the "emergency" turned out to be a party but is okay with it after finding out Bex's story. She asks Bex if Andi's father is the guy who used to come over while Bex was babysitting her, but Bex refuses to answer.
Later that night, Buffy and Cyrus arrive first for the party. Buffy is worried that they're the first ones or they might not have many guests. Andi says everyone who saw her post is coming, and Cyrus reveals that his mom also posted about the party. Within a short time, a lot of other people arrive. Bex encourages Andi to get on the floor and dance instead of being shy. When Bex notices Jonah, she puts the spotlight on him to dance with Andi.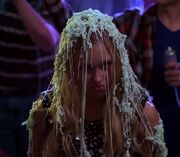 Amber Alert! Jonah's girlfriend, Amber, arrives at the party and finds Jonah dancing with Andi. She gets mad but pretends to be having fun. Andi gets nervous and wonders why Amber has to be there. Amber walks over to Andi and "thanks" her for making the bracelet that Jonah gave to her. Amber tells Cyrus that she would like to introduce him to her friend. Bex and Andi follow Amber to attack her with air freshener, spraying it all over her face.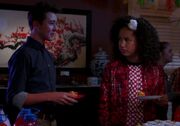 Meanwhile a guy named Marty tries to hit on Buffy but Buffy is too busy one-upping him that she doesn't even get his name. Cyrus tells Buffy that she doesn't have to turn everything into a competition but Buffy says the night is young and so is she. Cyrus and Buffy join the rest on the dance floor. Lights out. Andi puts on an excellent dancing in the dark with neon lights, impressing everyone. Jonah leads the crowd to cheer for Andi, which only makes Amber more jealous.
Amber takes the stage and gives a shout out to Andi for the great party. And a shout-out to Andi for her new mom. But she doesn't stop there. She gives a shout-out to Andi's new dad... who isn't here. Total silence! Bex and Andi feel violated that Amber had to go up there and violate their personal affairs on stage like that. Bex gets confused and even accidentally turns off the lights. Jonah confronts Amber for doing that. Bex and Andi storm out to Andi Shack for some quiet time. Bex tells Andi that Amber has no right to ask personal questions like that. This makes Andi realize how much it hurts every time she keeps asking Bex about her father and things she isn't ready to talk about. Bex promises that she will tell Andi about her father.
Right about then, Cyrus calls Andi and Bex to tell them that their parents are home. Celia enters the house and shuts down the party: "Everybody, OOOOUUUUT!!!!" Celia is so mad that she can't even talk to Andi and Bex. She goes to sleep as Bex and Andi start cleaning up. Bex apologizes to Andi and promises that she will say the whole party was her idea and Andi was against it all along. But Andi says she wants to take credit for the party because it was amazing. Ham offers to help Bex with cleaning so that they can let Andi go to bed. Andi makes Bex promise to continue the conversation later.

Bex tells Ham that Andi wanted to know her dad but she is reluctant to tell her because she doesn't know where to begin. How do you just tell someone that this is your father and your father doesn't know you exist? At that point, Ham tells Bex that Andi's dad knows - Ham told him. Bex is relieved and shocked at the same time.
Cast
Main Cast
Recurring Cast
Guest Cast
Colleen Baum as Lillian
Quotes
| | | |
| --- | --- | --- |
| Andi |  : | That's very dramatic. But now I know for a fact that he is somebody. Because you bring up pizza every time you don't want to answer my questions. But it's not gonna work this time... except now I'm hungry. |
| Bex |  : | Half plain, half pepperoni |
| Andi |  : | Extra cheese. But next time, it's not gonna work. |
| | | |
| --- | --- | --- |
| Cyrus |  : | You won't believe what happened. I ran into a glass door. |
| Buffy |  : | Again? |
| Cyrus |  : | A different one. Much more painful. |
| Buffy |  : | Then why are you so happy? |
| Cyrus |  : | Adrenaline. And shock. Which is starting to wear off. Ow! That really hurts! |
| | | |
| --- | --- | --- |
| Cyrus |  : | Hey, who's that kid you were talking to? |
| Buffy |  : | Um, I don't even remember his name. I was too busy one-upping him. |
| Cyrus |  : | Conversation is not a competition Buffy. |
| Buffy |  : | Maybe not yet. But, the night is young and so am I. |
| | | |
| --- | --- | --- |
| Bex |  : | That girl has no boundaries. What kind of a person thinks that it's okay to come out and ask an intensely personal question like that? |
| Andi |  : | Me. I do it to you. All the time. Are you ever gonna tell me who my dad is? |
Trivia
Now everyone in town knows Andi's secret.
Amber's friend mentioned in this episode is Iris and is seen in It's Not About You.
It's revealed that Cyrus' mom is the biggest gossip.
Celia sprayed water on Lillian.
This episode was in the Andi Mack "Tomorrow Starts Today" junior novel along with 13.
Gallery
| | |
| --- | --- |
| | To view the Dancing in the Dark gallery, click here. |
References