"

Andi... you're not the only one who likes Jonah. I like him, too.

"
Cyrus' Bash-Mitzvah! is the thirteenth episode in Season 2 of Andi Mack and the twenty-fifth overall. It first aired on February 23, 2018 to 1.39 million viewers.[1]
Plot
Summary
After much preparation and planning, Cyrus' Bar Mitzvah festivities commence. Andi and her friends and family all join him in the celebration, which is full of landmark events for more than just Cyrus.[2]
Full Plot
Cyrus' bar mitzvah is finally here. All of Cyrus' friends and relatives are there for the big day. Buffy and Andi help him prepare to read from the Torah. There are a lot of entertainment booths including games, a caricature artist, and a fortune teller, among others. The religious part of the ceremony begins. Cyrus, his parents, step-parents and the rabbi take places on the stage. Cyrus reads from the Torah and gives a brief speech. He's officially a man now.
During the ceremony, Andi is sitting next to Bex when Jonah approaches. Bex signals Jonah to sit next to them but Jonah declines and choose to sit next to Andi's grandparents. Later, Bex advises Andi to act *as if* Jonah doesn't exist. She tells Andi that's how she's been dealing with the Bowie and Miranda situation. But then when Bowie arrives, Bex is unable to keep her cool. Luckily, Ham pulls Bowie away into the dance before the situation gets more awkward. During the dance, Andi notices two girls dancing next to Jonah, competing for his attention. She notices how happy Jonah is. Andi can't take it anymore. She storms out. Buffy offers to follow her and help.
On the way out, Buffy runs into TJ. Buffy is clearly not happy that TJ was invited. TJ tells Buffy that even though she hates him, he's happy for her because her mom returned. Buffy then replies that she doesn't hate TJ. As far as she's concerned, TJ does not exist. Buffy leaves to go comfort Andi.
When Jonah tries to play different games, the girls keep following him everywhere. After noticing Cyrus, he quietly asks him to help get rid of the girls. Cyrus tells him to pretend that he is going to meet the rest of Cyrus' family. When Cyrus tells Jonah that he feels bad about his breakup with Andi, Jonah tells him that he didn't break up with Andi. All he said was that he doesn't like labels. Cyrus joins Buffy in helping Andi with her Jonah issues. He reports that Jonah told him that he didn't really break up with Andi. But Andi makes a strong argument of how Jonah has been avoiding her all day. Andi only grows sadder.
To help Andi, Cyrus tells her that he knows *exactly* how she feels about Jonah. Buffy realizes that Cyrus is about to come out to Andi. Buffy and Cyrus exchange expressions to make sure that Cyrus is ready for this. He tells Buffy that Andi is his best friend and deserves to know. Cyrus then tells Andi that he knows exactly how she feels about Jonah because he likes Jonah too. Andi takes a few seconds to process and then gets it. She smiles at Cyrus and confirms that Buffy knew about it already. At that point, Andi and Cyrus start bonding over how emotionally-straining it is thinking about Jonah all the time, and how cute Jonah is. Realizing that she's not alone, Andi starts feeling so much better.
After that, Andi and Buffy perform a very special dance choreo for Cyrus. At the end, they invite Cyrus to the stage to dance with him.
Bex takes Andi to the caricature artist booth so that he can draw them. The artist is a cute boy named Walker. Bex and Andi are ready for him to start drawing them when Bowie arrives and insists on joining them for a family portrait. Bex insists that she just wants one with Andi. After realizing that they don't want him in it, Bowie asks if he did anything wrong. They then come clean and tell him that they saw him at the mini-golf course with Miranda and her daughter. Andi tells Bowie that if Miranda let her daughter meet Bowie, she must think it's serious. So, does Bowie think the relationship is serious too? Bowie refuses to answer which only upsets Andi and Bex even more. Andi and Bex agree that the only thing that could make that moment worse is if they got a caricature drawing of it. They walk out on Walker without getting the drawing.
Cyrus convinces Andi and Buffy to go to the fortune teller booth with him. The fortune teller, Madame Le Doux asks them to each write a yes-or-no question on a card without letting her know what the question is. After that, she asks them, one-by-one, to hold their cards next to their heart so that she can read their fortune. She says "yes" to Cyrus' question. Cyrus then shows Andi and Buffy that he had asked if he will go to an Ivy League college. The fortune teller then adds that Cyrus will not graduate from the college. Andi writes whether she will get a boyfriend. Madame Le Doux responds with a "yes." After Andi sharing her question with her friends, the fortune teller adds that it will be very soon.
When it comes to Buffy's turn to get a reading, the fortune teller says, "no!" Buffy shows her friends that she had asked whether her mom is home for good. After that, Madame Le Doux adds that neither will Buffy be home for good. Buffy doesn't understand what the fortune teller means by claiming that she won't be home for good either. But mostly, she is upset that the fortune teller predicted her mom won't be staying. Cyrus comforts Buffy by telling her that the fortune teller was probably just saying Yes or No randomly, then adding extra information once they'd read the questions out loud. The Good Hair Crew agree that there's nothing to worry about.
While leaving the fortune teller's booth, they notice Jonah walking by. Maybe Andi's fortune is about to come true. Buffy and Cyrus encourage Andi to go talk to him. Jonah looks like he's ready to talk too. However, just before Andi and Jonah get close to start talking, Andi is interrupted by Walker, the caricature artist. Walker shows Andi a beautiful drawing he made of her while she was sitting at his booth. Andi is impressed by his artistic skills and asks what else he can do. Walker asks Andi to come with him so that he can show her his skills. Jonah is left alone.
Andi and Walker start hanging out for most of the party. Jonah starts to realize that he might lose Andi. He asks both Buffy and Cyrus about who that boy is but neither one of them know Walker. Buffy is surprised that Jonah Beck can actually get jealous. Andi and Walker go to the photo booth to take cute photos together. Jonah overhears them while he's passing by. He stands for a second before Cyrus' mom, Leslie Goodman, comes looking for Walker to go back to doing caricatures. Walker leaves the booth but Andi sticks around, hoping Jonah will go away. But then Jonah calls her, telling her that her photos with Walker are done printing. She awkwardly gets out of the booth, ready to face Jonah.
Jonah tells Andi that he didn't really break up with her. He just doesn't like labels. He says he would still be willing to wear The Bracelet from time to time but Andi tells him that she threw it away. Andi tells Jonah that she used to be so obsessed with him. She put so much energy into their relationship. She reminds him of the time that she was stressed trying to ask him three times if he was mad at her (Head Over Heels). She reminds him of that time she had to chase him around to get him to go to the Grease sing-along with her (You're the One That I Want). Jonah tells Andi that he liked all those things but Andi says that she didn't like doing that at all. They were emotionally exhausting. She used to be so obsessed with him but now, she's over him. She finally feels relieved. They agree to meet at The Spoon later for baby taters, but when Jonah calls it a date, Andi says that it is not a date. At that point, it becomes clear to Jonah that he is really losing Andi.
Meanwhile, Buffy runs into TJ again. TJ asks Buffy to give him a chance so that he can ask her an important question, because she's the only one he can share it with. Before getting to the important question, TJ asks Buffy if she went to the fortune teller and what she thought of her. TJ then shows the question he wrote for the fortune teller. He had asked if he has a learning disability and the fortune teller said yes... and added that TJ should let his friend help him. At first, Buffy assumes that the fortune teller only said that after hearing TJ read his question right. But TJ reveals that he never read out his question and she never saw his card. This freaks Buffy out. She gets worried about her fortune too. She leaves without letting TJ ask the important question he wanted.
With her friends holding her hands for emotional support, Buffy calls her mom to confirm if the fortune teller was right. Her mom tells her that she is not going to be deployed overseas anytime soon. Buffy is relieved but at the same time mad at the fortune teller. How can the fortune teller be allowed to mess with people's emotions like that? Buffy goes back in to give Madame Le Doux a piece of her mind. Andi and Cyrus come in with her. Buffy confronts the fortune teller about it and for lying that her mom will get deployed overseas again soon.
Madame Le Doux clears things up - she never said that Buffy's mom would be deployed. She had only said that Buffy's mom won't be home for good - and neither will Buffy. Buffy says that doesn't make sense. Unless.... unless it means they are moving because military families move a lot. Buffy doesn't want to accept the possibility that they're moving. Andi and Cyrus advise Buffy to go home and talk to her mom about it.
Meanwhile, after realizing that he is losing Andi, Jonah becomes so worried and starts to stress about it, leading to a bad panic attack. TJ finds him collapsing, asking for help. He helps Jonah sit down and goes to get help. One of Cyrus' dads comes over to help Jonah through it. Dr. Goodman tells Jonah that he's having a panic attack and that he may experience it again. He mentions that during his line of work, he has seen kids even younger than Jonah going through panic attacks every day. It's not easy, but with friends and people who support him, he can get through it. Jonah doesn't want any of his friends finding out about him having panic attacks.
Before leaving the party, Bowie asks Bex to bring Andi so that he can read a speech for them that he prepared, to show them how much they mean to him as his family. Bex is reluctant to call Andi. Bowie tries reading the part he wrote for Andi but it's just too emotional. He gives Bex the speech for Andi to read later.
Later that evening, Bex is lying on the couch in her apartment while Andi is reading Bowie's written speech. In the speech, Bowie tells them that the two most important things in his life are them and the universe. He can live without the universe but he can't live without Andi and Bex.
There's a knock on the door. Andi goes to open the door and finds Jonah. Jonah apologizes for everything and tells Andi that something happened to him after they parted at the party. And he is very sorry. He knows what he wants now. He wants to officially become boyfriend and girlfriend with Andi. He asks Andi what she thinks but Andi just responds with the dreaded "Um..." that Bex used when Bowie proposed earlier. Then Jonah repeated the response again, "Um?".
Cast
Main Cast
Recurring Cast
Guest Cast
Peggy Ann Blow as Madame Le Doux
Danny Jacobs as Norman Goodman
Jackie Joyner as Leslie Goodman
Timothy Hornor as Todd
Beryt K. Nisenson as Sharon Frank (uncredited)
Danny Burman as Rabbi Hurwitz (uncredited)
Trivia
This was the first episode to feature Cyrus's parents and step-parents.
Despite having re-married, Cyrus' mother continued to refer to herself as Dr. Goodman.
Joshua Rush's actual mother, Beryt, plays Cyrus' step-mom, Sharon, in a non-speaking cameo. Also, one of his actual aunts appeared at the party.
This was a one hour special and the mid-season finale. He also confirmed that the episode was largely based on his own Bar Mitzvah, which was held in Israel only a few weeks before his audition for the show.
This episode focused on Cyrus' Bar Mitzvah, which was first mentioned back in "Mama."
This was the episode in which Cyrus comes out to Andi.
The song that Andi and Buffy (and eventually Cyrus himself) danced to is Work by Stella Mwangi.
Walker, a talented artist, and new presence in Andi's life, was introduced.
It was revealed that Jonah may be prone to panic attacks.
Following the episode, Asher Angel and Trent Garrett appeared in a Be Inspired PSA for anxiety attacks.
At the end of the episode when Jonah confesses his feelings to Andi, she replies with "Um..." This is a reference to Bex's response to Bowie's proposal in "Hey, Who Wants Pizza?"
Joshua Rush confirmed that there was a deleted scene in which TJ helps Cyrus open a bottle of sparkling apple cider by twisting it enough so that Cyrus can open it himself and get all the attention and credit for it.
Lizzie McGuire also had a episode where Gordo had a Bar Mitzvah.
Activities For Cyrus' Bash-Mitzvah:

Caricature Artist (Walker)
Fortune Teller (Madame Le Doux)
Dance Floor with Karaoke Machine.
Interactive Dance Video Game
Dessert Tables
Outdoor Bungee Races
Pop-A-Shot-Basketball
Photo Booth
Quotes
"

Who am I today? Who will I turn out to be? I don't know yet. All I really know is that I have people in my life who love me as I am... whatever that is. 'Keeps changing. But today, I am a man. Tomorrow, I'll be a 7th grader.

"

— Cyrus at his bar mitzvah ceremony
Gallery
| | |
| --- | --- |
| | To view the Cyrus' Bash-Mitzvah! gallery, click here. |
​Videos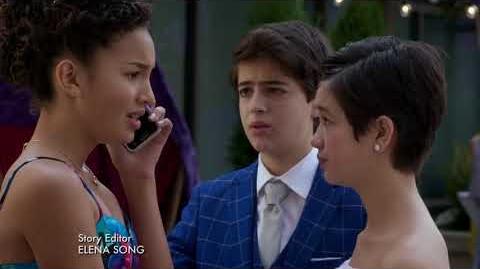 References