"

I was worried you were gonna do something romantic.

"
Bex and Bowie, known as "Bexie or Bowex" is the pairing between Bex Mack and Bowie Quinn. Fourteen years before the start of the show, their romance resulted in the birth of their child, Andi, but Bowie was not told the full details of her actual parentage, believing the baby was only Bex's newborn sister. Their relationship apparently ended with Bowie leaving town without knowing the truth, however, Ham Mack seemed to remain on friendly terms with Bowie. Their romance was rekindled when he returned to Shadyside upon learning he had a daughter. As of Season 3, they are engaged. They got married in A Moving Day. Bex and Bowie are portrayed by Lilan Bowden and Trent Garrett.
Moments
Season 1
Bex doesn't want to hurt Bowie by telling him that he has a daughter he didn't know about.
Bowie comes over to Bex's house after receiving an email which just says "hey," implying that he might still like her.
Bex introduces Bowie to his daughter, Andi.
Both Bowie and Bex make fun of how strict Celia still is.
Bex gets permission for Andi to hang out with Bowie.
Andi tells Bex that Bowie came all the way for her.
Bex says Bowie is unpredictable and it's part of the reason they broke up.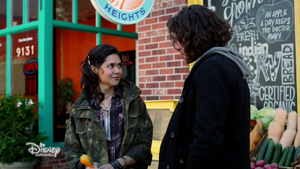 Both Bex and Andi want Celia to allow Bowie to remain around for long.
Bex defends Bowie when Andi is concerned about him embarrassing her.
Bowie takes Bex to the last place they saw each other before he left town after their fight.
He apologizes for leaving her hoping to make it in life.
Bowie asks Bex to let him back in their lives so that he can spend more time with Andi.
Bex is proud of Bowie's cooking.
Bex is worried when Bowie leaves.
Bowie comes back to town after finding photos of Bex at different concert venues, which made him conclude that the universe is telling him to go back to Bex.
Bowie plays the song he wrote for Bex.
Bex and Bowie dance together.
Bex admits to Andi that she loves Bowie but she's just afraid that he can't be dependable.
Bowie tells Andi that he loves Bex too but he understands that he hasn't had a good track of being dependable and promises to try.
Bowie finds an engagement ring in his coat; he and Andi conclude that the universe is telling him to marry Bex.
Andi and Bowie make plans for Bowie to ask Bex to marry him.
Bowie proposes to Bex through a pizza delivery.
Bex refuses to give Bowie an answer.
Bex tells Andi that she doesn't want to marry Bowie and promises to tell Bowie about it.
Bowie is crushed when he finds out that Bex doesn't want to marry him during the Chinese New Year festivities.
Andi figures out that Bex is only refusing to marry Bowie because she needs to find closure from her last boyfriend.
Bex and Andi burn the picture of Bex's last boyfriend to help her move on.
Bex places Bowie's photo next to the family photo.
Bowie offers to become Bex's makeup art model to help Bex submit her applications to become a certified professional makeup artist.
Bex and Bowie go together to pick up Andi from the police station after she's arrested for trespassing, thanks to Amber.
When Bex questions her own parenting skills, Bowie promises that she will get a hang of it.
Bex and Bowie have a cute moment as they get ice-cream together and start playing around like they used to.
Bowie helps Bex sees from CeCe's perspective why CeCe needs to sell the house.
Bowie comes over to Bex's house to help Bex deliver the bad news about Andi Shack to Andi.
Bex takes her sick plant to Bowie's nursery but finds Miranda Patrick instead.
Bowie is glad that Bex and Miranda have quickly become friends.
When Andi tells them about her boy trouble with Jonah, Bowie tells Bex that he will talk to her as her parent.
Bex tells Miranda that she is not interested in Bowie, allowing Miranda to ask him out.
Since Bex still has feelings for Bowie, she is unhappy when Miranda asks him out. So, Bex cancels her donut date with Miranda.
Bex throws a surprise birthday party for Bowie
Bowie confides in Bex as to why he doesn't like his birthday.
Bex helps Bowie to get over his birthday blues and start a new father-daughter birthday tradition with Andi.
Bex jokes about keeping a secret baby from Bowie for thirteen years.
Bex trains Bowie how to act surprised at the party.
Bowie takes Bex and Andi to a mini-golf course so that they can all play together as a family.
When Andi finds out about Miranda, Bex asks her to respect Bowie's privacy
Andi says that Bex and Bowie are soulmates and they are supposed to and together.
Bex is a little jealous when she sees Bowie golfing with Miranda and her daughter.
Bex is not happy that Bowie is now dating Miranda Patrick. So, she tries to avoid the awkwardness by acting as if he's not there.
Bowie wants to take a family caricature drawing with Andi and Bex but Bex doesn't want him there.
Bowie writes an emotional speech to Bex, explaining how important Bex and Andi are to him.
Bex admits to Andi that she regrets not saying yes to Bowie when he asked to marry her. She said no because she wasn't ready.
Andi begs Bex to tell Bowie how she feels but Bex says that it's too late because Bowie has moved on (to Miranda Patrick).
After her fight with Bex, Andi runs to stay with Bowie.
Bex calls Bowie to check in on Andi. She tries to come up with code-words for her and Bowie to use without getting Andi suspicious.
Bowie joins Bex and Andi to Buffy's game.
Bowie shows Bex Red Rooster Records, the music store where he now works.
Bex brings up "a certain plant doctor" to get Bowie to talk about Miranda.
Bowie and Bex start acting as if they're flirting which makes Jonah think they're still together.
Bex is not happy to see Bowie with Miranda.
CeCe encourages Bex to fight for Bowie.
The tension between Bex and Miranda rises when Miranda accuses Andi of lying about Morgan stealing. Bowie calms them down.
Bex is disappointed that Bowie doesn't trust Andi.
Bowie cut his tour short to come back to Bex and Andi
In a flashback it shows that Bex told Bowie she and Andi were going to propose to him, and he happily says yes
In the present, Bowie says the band is over and Bex says she has questions, to which they bboth say they have one important one
They both get on one knee and say in unison "Will you marry me?" to Andi's excitement.
They both celebrate and dance and cheer for their engagement.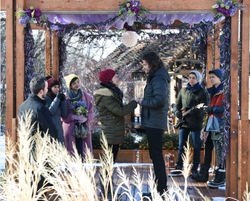 Bowie pulls Bex aside and asks if she's lost. He says he won't say anything and she can trust him.
She turns that around and tells him to trust her.
Bex and Bowie get married.
The wedding was a surprise, and the only people who knew ahead of time were Bex and Andi's friends. Bowie thought he was going to meet a hermit chef.
Bex and Bowie slow dance together. Bowie wears his father's tuxedo and Bex wears her wedding dress.
Trivia
They're Andi's parents.
They broke up because Bowie wanted to follow his dream and be a musician.
They are both outgoing and adventurous.
Andi becomes convinced that her parents, Bex and Bowie, are destined to be together.
Possibly due to Miranda's story in The Ex Factor, Bex has decided against a wedding for the two.
The pair finally wed in a surprise wedding planned by Bex in A Moving Day.
Quotes
Bowie
 :
Just Speak for yourself. What do you want?
Bex
 :
Honestly?
Bowie
 :
Yes, honestly.
Bex
 :
Pizza. Aren't you starving? Cause I am.
Bowie
 :
Me too, actually.
— "Terms of Embarrassment"
​"You, Girl"
You, girl, are the answer and the question,
​A completely new dimension,
​Yeah, you are.
​You, girl, took my heart, but you can't keep it,
If you don't want it, I won't need it, anyhow.
You're everything I've learned so far,
And the things that I don't know yet.
Every sunset, every star,
​I can't list all the things you are.
Yeah, you, girl, you make me weak, you make me strong,
​How would I ever get along,
Without you, girl?
Song by Bowie Quinn dedicated to Bex Mack.
Gallery
| | |
| --- | --- |
| | To view the Bex and Bowie gallery, click here. |