AndiShack is a shed house next to the main house, where Andi spends most of her free time doing her personal things like art, making bracelets among others. She has got a lot of art supplies and materials among other things in the shed to use as needed.
Andi's friends usually hang out at the Andi Shack when they come to visit.
Moments
Known Guests
Objects
Andi's art supplies (washi tape, yarn, etc)
Bex's old Nickelback CDs which were made into a lamp
some of Andi's finished crafts projects
tennis racket wall decorations
pillows and blankets (an area to sleep)
a wall of un-blown balloons which hang in rows
rainbow string lights
origami paper cranes (after the possibly arose of selling the house)
a Tibetan box containing the hospital bracelets from when Andi was born (previously)
Episode Appearances
Trivia
Even thought it's a shed, it surprisingly has electricity, as seen by the lights used.
Gallery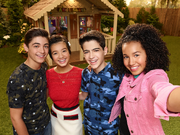 Community content is available under
CC-BY-SA
unless otherwise noted.